New realities of the business industry dictate their terms and establish updated rules. Nowadays if you run a business, you need to be prepared to face high competition, rapidly changing tendencies, and specific customers' preferences. There is only one way to keep your business afloat and make a profit is to learn to react quickly to external factors and adapt to the new standards. Of course, to become able to stay competitive and demanded it is necessary to adjust the processing not only of external factors but of internal ones as well. Thus, if there is a possibility to improve some processes in your workflow, you can not miss this chance. The implementation of, at the first glance, minor changes like an electronic signature into the business mechanism could lead to global improvements.

It is difficult to ignore the process of total digitalization all around the world. Digital innovations help to reconsider your views on many working processes and change the approach to them. Nowadays technologies implemented into the business mechanism have a positive impact on the reputation of the company as well as the speed and quality of the workflow.
However, it is necessary to admit that some digital tools require much more effort and time than others. Fortunately, there are no less effective methods but easy-to-use digital solutions. The most demanded option is the system of e-signing services, which includes virtual signatures as well.
The Best E-Signing Services for Your Business 
If you are interested in the high-quality e-signing service, which can enhance your workflow, you should pay attention to SignNow.
The company has been a leader in the market for many years. SignNow is a trustworthy company, which is confirmed by the fact that its parent company is AirSlate, which is famous for the elaboration of great robotic programs, web design services, etc.
In addition, the flawless reputation of SignNow is assured by the big number of positive reviews from its clients on platforms Capterra and Trustpilot.

Main advantages of e-signing service provided by SignNow:
Wide variety of offered products (virtual signatures, generation of documents, workflow automation tools, electronic payment operations, etc.)
Easy-to-use official website with video instructions, detailed descriptions of all offered services, contacts, etc.
Stable customers maintenance (FAQ section, online help center, email support)
Provided e-signing services are appropriate for various fields including healthcare, education, insurance, finances, HR, sport, construction industry, sales, legal area, government, and others
High level of security ensured by GDPR Compliance, SOC 2 Type II Certified, PCI DSS Certification, 21 CFR Part 11, HIPAA Compliance, and CCPA Compliance
Cooperation with more than 40 famous apps and CRM services
100 ready-made samples of documents
What is more, SignNow offers users a possibility to get to know the company better and try a free trial, which lasts one week. To start your free trial you need to sign up on the official platform of SignNow and create a personal profile.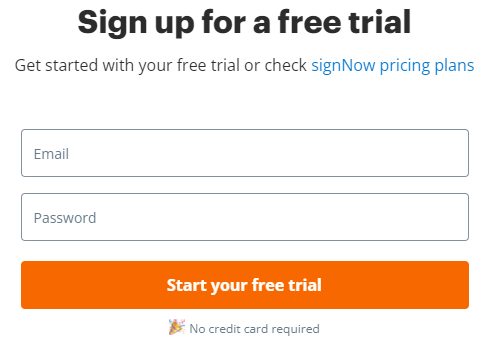 Although SignNow provides a wide choice of different e-signing solutions, a digital signature still is the most popular proposition.
Key Feature of Virtual Signature 
Everyone knows the importance of a personal signature, which is considered to be one of the most reliable confirmations of the person's identity. That is why no financial and legal support of the business could not be provided without the institution of a signature.
Electronic autograph is a new generation of classic handwritten signatures. In fact, every virtual signature is just a digital copy of the hand-made sign because it has the same form and view.
However, there is a difference in the creation process and in possibilities, which an electronic autograph offers.
So, to be able to sign an important document with a digital signature you do not need to hold this document in one hand and a pen in the other. You can be tens of kilometers from the document and sign it with the help of any appliance. It is possible to create a virtual autograph using a sensor pencil, PC mouse, or your finger. The view of the signature is created and displayed right on the screen of the device.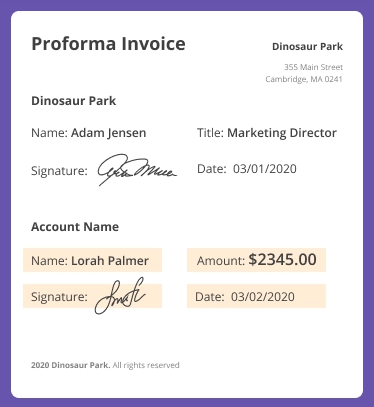 Benefits of the use of a digital signature:
Reliability. The use of a digital sign assures great protection for signed documents. It is impossible to forge an electronic autograph. The e-signing system allows to determine the moment of documents creating and sending. After signing, the document could not be corrected because any changes will be reflected in the decryption.
Increased confidentiality. The user of a virtual sign is protected from falsifications, which helps to simplify the payment operations. With digital signs, all transactions are accelerated.
Time save. Documents for signature are sent electronically without transferring the data carrier, which saves resources and time. In addition, time is saved due to the absence of the need to hold face-to-face meetings to sign documents.
Money save. It is possible to save finances, which are spent on paperwork and the necessity of a personal presence for a signing procedure.
Expansion personal and business opportunities. You can regulate the business workflow from any location you want. Moreover, due to the use of a digital signing, you can cooperate with international partners.
SignNow offers you the possibility to take your business to the next level. The implementation of the electronic signing into your workflow is the first step towards the digitalization of your business, which will lead to the advancement of all working processes.